It's the box-office Sunday, when the Premier League leaders Chelsea take on a struggling 6th placed Manchester United at Old Trafford.

Chelsea is sitting on a 10 points cushion as compared to United before they head on to Trafford. They are unbeaten this season and hold a strong position at the top, while Manchester United are nowhere near what they used to be in the Ferguson's era.
Perhaps, the only positive from Manchester United's failure to qualify for any UEFA competition this season they can make out is that they have had a week free to prepare for this classic fixture. Irrespective of the result on Sunday, it is bound to be an absolute cracker of a game.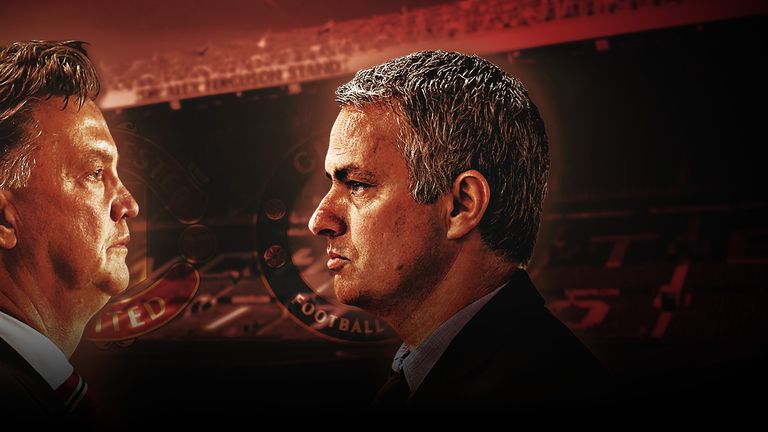 The two men in charge this Sunday are well accustomed to each other. It's the Master – Louis Van Gaal who pits his wit against his Apprentice – Jose Mourinho.
The Early Years
Before Jose was named the 'Special One', he began in the shadows. Mourinho started out as a translator at Sporting Lisbon, courtesy to Sir Bobby Robson, to whom he accompanied until his last stint at Barcelona.  In 1997, Louis van Gaal arrived at Barcelona with Bobby Robson's side struggling in the league. Van Gaal was asked to take over as manager.
On Robson's recommendation, Van Gaal took on Jose Mourinho, who had become far more than a translator, to be his "third assistant". It was hardly a relationship of equals. One was the backroom boy, unsure of his position in the future, the other, already with one Champions League triumph to his name, asked to bring control to the Barcelona dressing room.
"Mourinho thought he'd been promised the youth academy job and even that he might be the next manager and hadn't been told. He was so angry and shouted so much about not being consulted that I was impressed." 

"On that day he was a 'Special One' and because of that I hired him. I learned that day he was special. He told me who he was and we worked together for three years. After one year he could have left but he stayed. He was an excellent co-trainer, a substitute coach. He carried out all the analysis for Barcelona and studied all the opponents. Also, and I don't do it very often, I let him coach matches, because I was convinced he had specific qualities."

– Louis Van Gaal on Jose Mourinho
Gradually, their relationship prospered and so did the squad, as the Van Gaal-Mourinho dream team led the Catalans to successful La Liga titles and another Copa del Rey victory.
In 2000, Mourinho became a manager in his own right as he took over Benfica and he has never looked back, since then.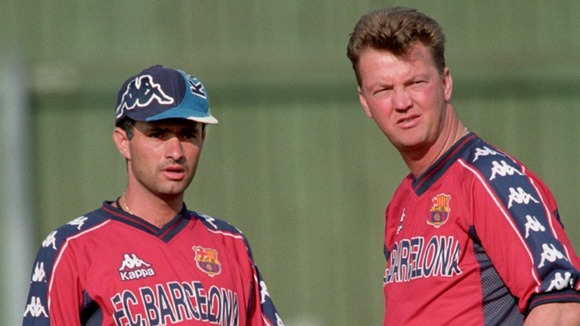 Louis Van Gaal's Prodigies

It's not Jose Mourinho alone that Van Gaal has shaped into becoming the best manager. He has been a mentor to the likes of Pep Guardiola – Bayern Munich, Frank de Boer – Ajax and Ronald Koeman – Southampton.

Managerial Achievements:

Jose Mourinho
In ten seasons of club management, Mourinho has led his club to win the domestic league seven times, the UEFA Champions League twice and the UEFA Cup once. Between 2003 and 2012, Mourinho did not go a single calendar year without winning at least one trophy.
Porto: Champions League, UEFA Cup, two domestic league titles, one domestic cup.
Chelsea: Two Premier League titles, an FA Cup and two League Cups.
Inter Milan: Champions League, two domestic league titles, one domestic cup.
Real Madrid: One domestic league title, one domestic cup.
Louis Van Gaal

He has also won titles in Spain, Holland and Germany with Barca, Ajax and Bayern Munich and said at his introductory press conference that he is aiming to add England to that list.
Ajax: Champions League, UEFA Cup, three Eredivisie titles.
Barcelona: Two Primera Division, Copa Del Rey, UEFA Super Cup .
Bayern Munich: Bundesliga, DFB-Pokal, DFB-Supercup.
Netherlands: FIFA World Cup 2014, third place.
Head to Head

These two world renowned football tacticians have played against each other in only one competitive game – the 2010 Champions League final when Van Gaal's Bayern lost to Mourinho's Internazionale 2-0 with a brace by Diego Milito at the Santiago Bernabeu. The duo also faced each other in the Franz Beckenbauer farewell match soon after Mourinho joined Real Madrid in the wake of his Inter success. Real won on penalties in Munich after a draw in the exhibition game.
What to expect on Sunday?

It's all set to be the battle of the season – the Special One versus the self-proclaimed 'Number One', Louis Van Gaal, well known for his attacking tactics and Mourinho for his defense. Mourinho will be out to show that he has firmly eclipsed his former boss. It will not get nasty, as they have too much-shared history for that –  but, make no mistake, each will want to win this game more than most.
"He is a great football manager and I am happy he joins me in the same country and the Premier League''. We had a good relationship, it was very special for me. He had the confidence and trust in me and I have a sense of responsibility to him.  

"He left a mark on me. He's a great guy, a great man and I wish him good.''                      
                                      – Jose Mourinho on Louis Van Gaal
Mourinho wouldn't want luck to be on Van Gaal's side come this Sunday. While, Van Gaal will be determined to level the score this weekend and is one of the few managers who can boast a comparable CV to the Portuguese. For 90 minutes, it's going to be Manchester United vs Chelsea with the likes of ex-Chelsea starlet Juan Mata who would have a lot to prove to his old side, but as far as stealing the spotlight goes, it's all about the Master vs the Apprentice and the Apprentice will be out to show that he has turned into a Master, himself.
Edited By: Harshal Ahire
Like Us on Facebook: Game Has Just Begun
[sc:twitter]